[vc_row remove_gap="remove-gap" container="1″][vc_column][vc_empty_space height="40px"]
The products Castelluccio di Norcia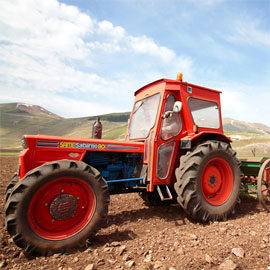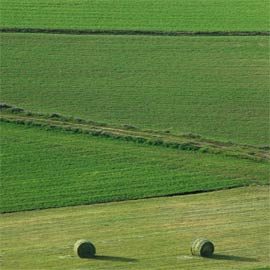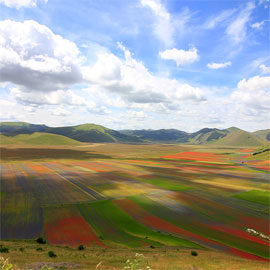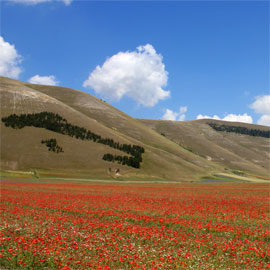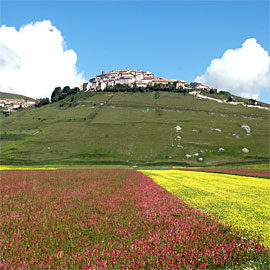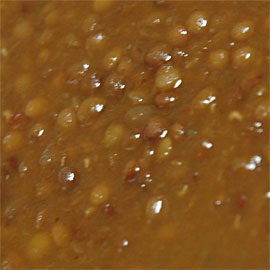 The lentils of Castelluccio of Norcia IGP
Famous since ancient times, lentils from Castelluccio of Norcia is grown within the National Park of Monti Sibillini, in the karst plains of Castelluccio at altitudes of up to 1500 m. It is rich in iron, protein and minerals, lentils from Castelluccio is also unique for its polychrome appearance (brindle, yellow, brown,) and its relatively small size.
In June 1997 he was awarded the prestigious European recognition for Protected Geographical Indication (PGI), which protects and preserves the product from possible fraud.
The seeds are sown in the spring when the snow melts. From that time until harvest must only hope over time, excessive rain or long periods of drought could have a decisive influence on yield. The cultivation techniques are the same ones that were taken since ancient times, using only organic fertilizer without the use of chemicals (herbicides, pesticides, ..).
In late July and early August will be harvested in the jargon "carpitura". Until a few years ago the collection was done exclusively with the "carpitura hand", and very long arduous task. To do this we made use of the aid of imported labor from neighboring countries. Dozens of women, "carpirine", climbed on foot to Castelluccio, where they remained until the end of harvesting.
As the lentil is snatched or, as happens now cut with machines, collects in piles arranged in rows parallel to dry out in the field. Only when it is dry loaded and taken to an area called the Pian Grande "yard" where it will be threshed. At one time this was done manually by two sticks (lu mazzafrustu), tied together and rhythmically hitting roteati planting lentils scattered on the ground, or trampling by horses making.
After threshing in the weeks and months following the operations of cleaning with different types of sieves, and finally the manual cleaning called "finger", before the final firing.
The land of high mountains also rather poor organoleptic substances, and weather conditions with temperatures sometimes hard to give Castelluccio lentils unique, unmistakable taste, and ease of cooking without even leaving the seeds to soak.
Here you can enjoy it just as was once cooked with celery salt, garlic and oil, and enjoy a special dish that is good plus it is rich in iron and easily digestible protein.
[vc_empty_space height="20px"][vc_separator][vc_empty_space height="20px"]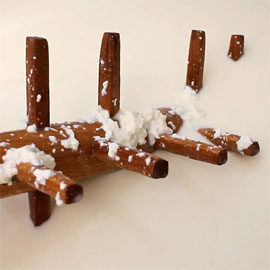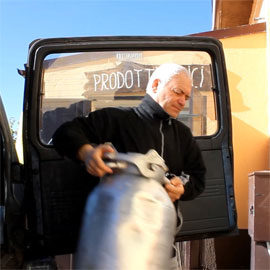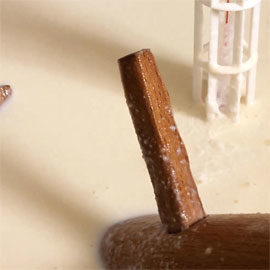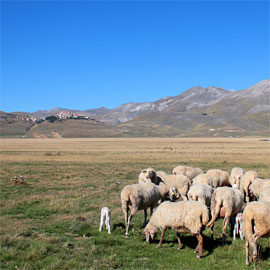 The cheese and Curd cheese
The technical production of cheese and cottage cheese that we use in our company, are the same since ancient times, and still using just milk, rennet and salt. The milk is heated to a temperature of 37-38 ° C., in the meantime is preparing the rennet, in the right proportions. As soon as the milk is hot and the rennet is added after about thirty minutes the curd is formed. A curiosity is that you know when the curd is ready leaning one hand, it must be perfectly dry. The curd, reduced in granules, is heated and then allowed to stand for about 10 minutes. Finally the granules of curd are placed in the forms, and, with the pressure of the hands is made to purge the serum. After the salting is done.
The curd is obtained by heating the serum and then letting it rest until the annealed surfaces, which must be quickly removed and placed in special containers called "baskets".
The cheese that is not consumed fresh, the next day is put into canvas bags and exposed outdoors for two or three days to dry, then it is covered with salt and left to mature as salty ricotta, according to the technique used traditionally by shepherds. What we want to tell you is so special that we use to transform raw milk that is not subjected to thermal treatment, as occurs in industrial production, so it helps to maintain the flora of fresh milk and its nutritional values.
If you are particularly fans of curd cheese and you'll notice that their tastes can vary during the year, in fact, the milk is influenced by sheep which changes with altitude pastures and the type of grass that varies during the season. The pastures of Piani of Castelluccio and mountains all around, unspoiled and very rich variety of flora, represent excellence.
From the fresh curd cheese to salty curd cheese.
The salty curd cheese, especially in the past, when it was advancing the cool of the morning to keep it and have to consume more food in winter. Marietta grandmother said that in her day in winter with salty curd cheese, after having boiled in water, they were too sweet. Today it is a delicacy that some people love more than cheese. The curd cheese can be stored for months. It 'very good even if the time covered with a thick layer of mold that someone is actually pleasant. We recommend removing it by hand as you consume.
The various processing steps:
possibly acquire a plot of those blue squares that were used for the "knapsack" of the shepherds, sew it after folding one side over the triangle and add two strings. The plot becomes what is called in dialect "caciottu" or a bag that will contain the curd cheese and determines the form of a "pear".
If you do not intend to use ricotta advanced the day before but it only prepares the cheese and then add salt, you have to cook it more. Be easier to make "Caciotti".
Place a curd cheese and half and squeeze in a "caciotto" tying laces.
Hang the bag and let it dry outside for three or four days.
After this period, tie a knot in the bag so that the curd is still closer and lose all the residual serum. Keep it hanging like that for another two days.
Untie the "caciotto" and remove the curd cheese. Sprinkle with a thin layer of salt. only salt.
Thereby leaving at least a week.
At this point, cover with a layer of wheat bran. The preparation ends well. Since it is only preserved with salt cottage cheese will tend to moldy, which will be removed at the time will be consumed. Now it can be tasted or simply dissolved in the dough, maybe with a tomato sauce or truffle or other spicy sauces. If you want to come and see us you could taste it in different ways, every way is delicious, and you see how we do it.
The fresh curd cheese.
The curd cheese is the product of which we are most proud of because it is delicious, we invite you to try it. You can enjoy it alone or accompanied with honey or fruit jam, flavored with sugar and cocoa, or used to make cakes. It 's also great as a sauce for pasta and pies.
If you come and visit us in the morning while getting ready, you can also taste the soup with warm bread and warm curd cheese in addition to being delicious is certainly a rare experience.
[/vc_column][/vc_row][vc_row][vc_column][vc_separator][vc_empty_space height="20px"]
[/vc_column][/vc_row]
We also use our own and third-party cookies, this to provide you with a proper functioning of the site and to improve your browsing experience. To learn more, we invite you to read our <a href="http://www.agriturismoilsentierodellefate.it/information-cookie/?lang=en" target="_blank">Privacy policy</a>.<br /><br />Anche noi utilizziamo cookie propri e di terzi parti, questo per fornirti un corretto funzionamento del sito e per migliorare la tua esperienza di navigazione. Per saperne di più ti invitiamo a leggere la nostra Privacy Policy & Cookie
Questo sito utilizza i cookie per fornire la migliore esperienza di navigazione possibile. Continuando a utilizzare questo sito senza modificare le impostazioni dei cookie o cliccando su "Accetta" permetti il loro utilizzo.