[vc_row remove_gap="remove-gap" container="1″][vc_column][vc_empty_space height="30px"]
Castelluccio di Norcia
[vc_empty_space height="30px"]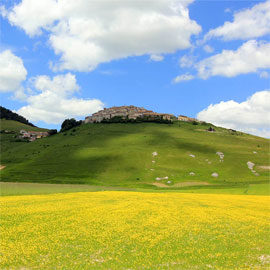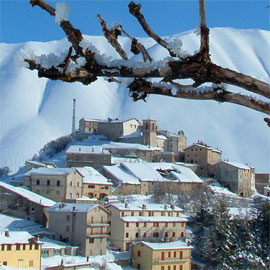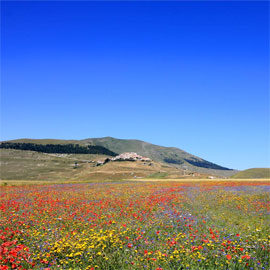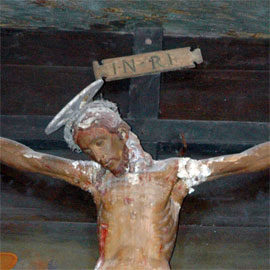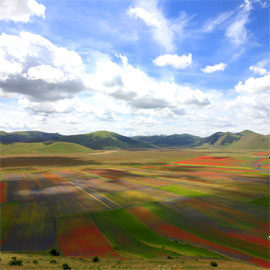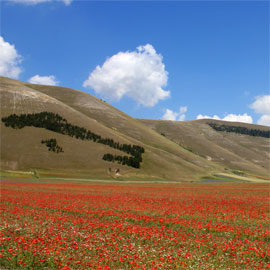 In the park of the Sibillini Mountains
In the heart of the National Park of Sibillini mountains and karst plans of outstanding environmental value and of great scenic beauty, lies the small village of Castelluccio of Norcia.
Perched on a hill at an altitude of almost 1500, overlooks the "Pian Grande", the "Pian Piccolo" and "Pian Perduto" and it is surrounded by the Sibillini mountains on which stands the massif of Vettore Mount.
In winter the landscape is muffled by the snow that falls, but since May everything become green, until the explosion of colors and scents in the month of June, which are solemnly celebrated the "Feast of the Flowering". At the end of July and August, periods during which it collects the precious lentils, countertop colors change again and the king color is gold.
For those wanting a relaxing holiday acquitted Castelluccio is an ideal place for peace and quiet.
But there are also many opportunities for those who want the holiday as a movement and adventure.
For those who choose the paths that lead to the peaks of Vettore Mount, the view is excellent and the view extends to the sea. At about 1900 meters high, you can admire the "Pilate's Lake", unique ecosystem, which in its crystal clear waters home to one of the oldest living organisms on our planet, a crustacean red "of the chirocephalo Marchesoni".
In addition to those on Mount Carrier excursions are many and various difficulties. It should be noted first of the "Grande Anello dei Sibillini" (the big ring of Sibillini mountains) complex network of trails that connect throughout the Park. For more information please visit the website www. Sibillini.net.
There is also the possibility to enjoy hang gliding and paragliding, horse riding, trekking with mules, mountain biking, winter skiing and snowshoeing. Moving a few miles you can go rafting and canoeing on the Nera River, and surviving outdoor courses, the gorg and activo park. We also recommend visiting the ancient town of Norcia, which is the birthplace of St. Benedict in which you can visit numerous monuments, museums and exhibitions all year round.
We will be glad to help you from time to time to choose the path best suited to you, or activities available or simply tell you the legends of Castelluccio and its traditions.
Surely we announce right now the site www.castellucciodinorcia.eu made by Pro loco of Castelluccio site with lots of passion and a wealth of information that will help you get into the spirit of our places that are truly magical.
See you there!
[/vc_column][/vc_row][vc_row][vc_column][vc_separator][vc_empty_space height="20px"]
[/vc_column][/vc_row]
We also use our own and third-party cookies, this to provide you with a proper functioning of the site and to improve your browsing experience. To learn more, we invite you to read our <a href="http://www.agriturismoilsentierodellefate.it/information-cookie/?lang=en" target="_blank">Privacy policy</a>.<br /><br />Anche noi utilizziamo cookie propri e di terzi parti, questo per fornirti un corretto funzionamento del sito e per migliorare la tua esperienza di navigazione. Per saperne di più ti invitiamo a leggere la nostra Privacy Policy & Cookie
Questo sito utilizza i cookie per fornire la migliore esperienza di navigazione possibile. Continuando a utilizzare questo sito senza modificare le impostazioni dei cookie o cliccando su "Accetta" permetti il loro utilizzo.